Our data packs have been carefully crafted to compliment the vanilla game: boosted potions, ziplines, redstone-ready machines and more.
Throughout the map these packs will be introduced, and unlocking their true potential is key to progress.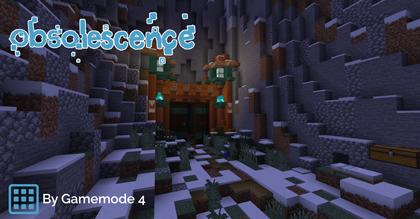 Obsolescence is a Gamemode 4 project. It was created by Thanathor, BluePsychoRanger, ToffeeMax, MichaelMiner137, Bloo___, TheEpyonProjects, Kyrkis, JP12_, miraku_memo, Kruthers, SpecialBuilder32. Cover and logo art by miraku_memo.